A Catholic School which champions each and every student.
We know and care for all,
we teach our students well
and have high expectations in all we do.
Wheel of Ambition & Achievement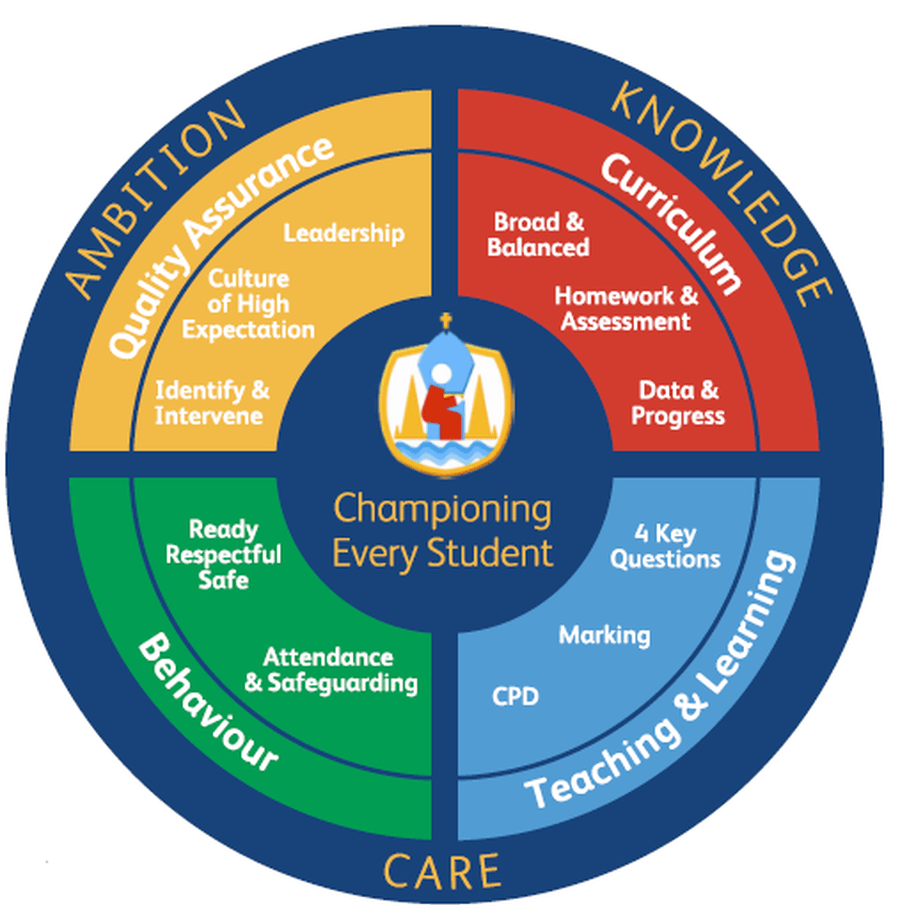 Our wheel of ambition and achievement
helps visualise the key elements that underpin our vision.
Jesuit Pupil Profile
The Jesuit Pupil Profile has been developed by the schools of the British Jesuit Province as a successor to the Jesuit School Leaver Profile published in 1995. The archdiocese of Birmingham has adopted this profile for its schools and here at St. Gregory's we use the profile in a number of ways to build character.
The aims in creating the Jesuit Pupil Profile (JPP) have been:
To propose a simple but challenging statement of the qualities we seek to develop in students, using key words which unfold Ignatius' own stated aim of "improvement in living and learning for the greater glory of God and the common good."
To produce a profile that describes the whole process of Jesuit education (from age 3 or 5 or 11 or 17 - the common ages of entry into schools in Britain) rather than that of a school leaver.
To create a JPP image in the style of a tag-cloud which can be used alongside the formal statement. Both image and statement are designed to provide a rich resource to stimulate discussion in class, assemblies, retreats and liturgy, in meetings of governors, with school leaders, teachers, support staff and parents; and which can be used to explain to prospective parents the aims of Jesuit education.
The Jesuit Pupil Profile proposes eight pairs of virtues that sum up what a pupil in a Jesuit school is growing to be:
Grateful for their own gifts, for the gift of other people, and for the blessings of each day; and generous with their gifts, becoming men and women for others.
Attentive to their experience and to their vocation; and discerning about the choices they make and the effects of those choices.
Compassionate towards others, near and far, especially the less fortunate; and loving by their just actions and forgiving words.
Faith-filled in their beliefs and hopeful for the future.
Eloquent and truthful in what they say of themselves, the relations between people, and the world.
Learned, finding God in all things; and wise in the ways they use their learning for the common good.
Curious about everything; and active in their engagement with the world, changing what they can for the better.
Intentional in the way they live and use the resources of the earth, guided by conscience; and prophetic in the example they set to others.
We have developed a tag-cloud style image which can be used (especially with children) to discuss the virtues of the Jesuit Pupil Profile. The image is in the form of a tree, drawing on the parable of the mustard seed (Mark 4:30-32). The pairs of virtues are colour-coded and this colour coding is used in the Jesuit Pupil Profile printed leaflet.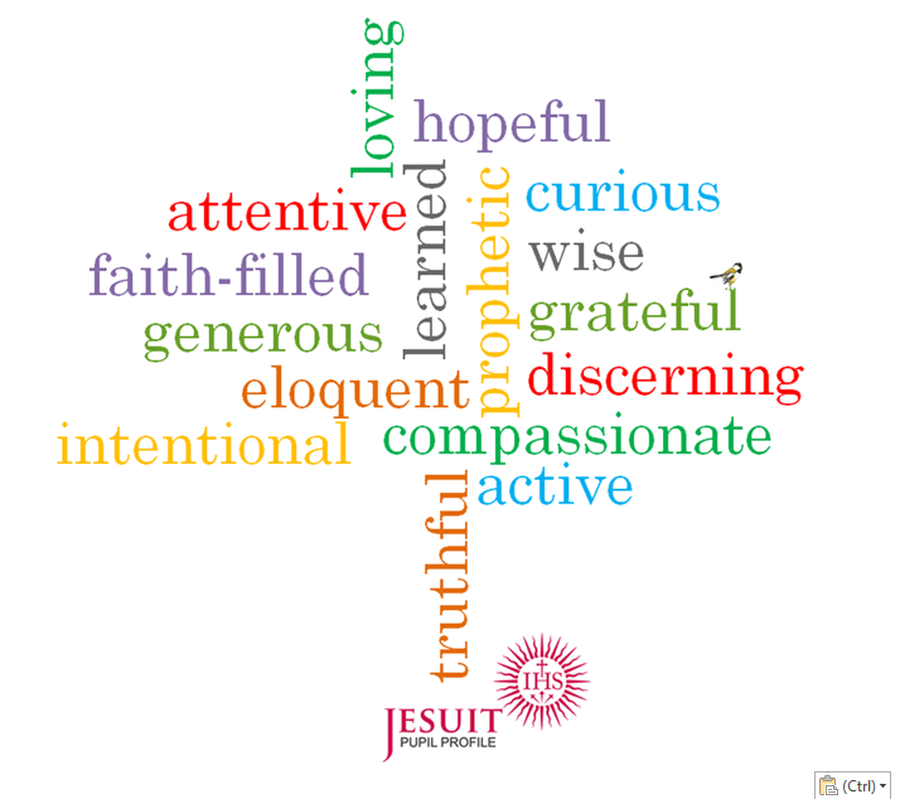 British Values
The DfE guidance advises that the fundamental British values which schools should promote are:
Democracy
The rule of law
Individual liberty
Mutual respect for and tolerance of those with different faiths and beliefs.
All DBMAC academies, including St Gregory's, will take steps to promote British values by:
Using teaching resources from a wide variety of sources to help pupils understand a range of faiths.
Embodying democracy within the ethos and culture of the school – within a framework of rules and regulations which are there for the benefit of all.
Ensure that all pupils within the school have a voice that is listened to and demonstrate how democracy works by actively promoting democratic processes such as a school council, whose members are voted for by the pupils.
Including material in the curriculum which considers the strengths, advantages and disadvantages of democracy and how democracy and the law work in Britain in contrast to other forms of government in other countries; fostering a keen awareness and understanding of democracy, government and how laws are made and upheld.
Striving to equip pupils with the skills and knowledge to explore political and social issues critically, to weigh evidence, debate and make reasoned arguments.
Ensuring that effective risk assessments are in place to safeguard and promote pupils' welfare.